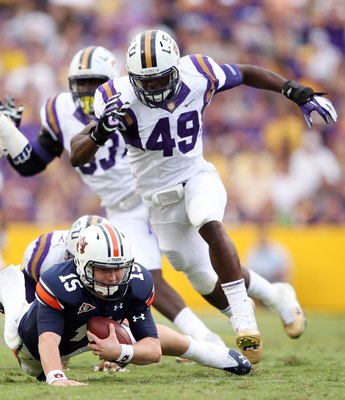 Heading into the 2012 college football season, there is no position deeper or more talented than this year's group of pass rushers, both in terms of what they can do this season but also in terms of what could be available in the upcoming NFL Draft. The biggest questions is whether or not guys will continue to produce at the level they have, stay healthy, and finally if they decide to declare. So much of the talent that could be available in the draft are underclassmen that some prospects may opt to stay in school in an effort to raise their stock for the following draft. I think the talent is just too overwhelming and this class could boast 3 or 4 guys just in the top 10 and 7 or 8 in the 1st round. So, let's take a look at some of what this group has to offer heading into the year.
Jarvis Jones, DE/OLB Georgia
The USC transfer could not be a better fit in Todd Grantham's 3-4 for Georgia. Jones is a devastating pass rusher with the confidence and ability to rush inside or outside with his strength and quickness to get to the quarterback, but what makes Jones so good in my mind is how good he is when he is not rushing the quarterback. He is extremely aggressive when it comes to attacking the run and does not give up any ground to offensive linemen, enabling his teammates to make plays at or behind the line of scrimmage when he is not able to make the play himself.
That is frustrating enough, but when Georgia gives the opponent a break and drops him into coverage, he is good at that too, able to cover running backs out of the backfield and maintain his zone integrity. Jones is also a violent hitter who can knock the ball loose and cause turnovers. This is all from a sophomore with up to two years left of college football if he wants them. He has tremendous short area quickness and strength, which combined with a tremendous punch, allow him to not only jar offensive linemen, but enable him to collapse the pocket and periodically put them on their butts on his way to the quarterback. Make no mistake about it; although Jones has impressive athleticism and quickness, he is an old school, power football player it is that power attitude that makes him such an impressive prospect. On top of everything else, Jones seems to display good instincts able to sniff out screens and other plays making him seem all that much quicker. In a league where half the teams employ some 3-4 looks, it is difficult to see a scenario where Jarvis Jones will be able to escape the top 10, provided he can stay healthy, and more likely he will go in the top 5. The guy that Jones reminds me of in terms of his style of play, is Hall of Famer Kevin Greene.
The only real questions facing Jarvis Jones in my mind are whether or not he can keep up this level of play for another season and how much better he can get. Even as only a sophomore, he may be relatively close to tapped in terms of how much better he can get, but even if that is the case, a team will be getting a tremendous football player with an understanding of hi role in the 3-4 from the word go. The scary proposition is if Jones can get better, how much better can he get? And while it it great from a coaching and team standpoint, there are times when Grantham's defense slants itself to enable Jones to make plays, which can inflate his stats and impact a little bit, but in no way is that an attempt to diminish how much of an impact Jones has. Last but not least, there are times when Jones will take plays off, but he does it in the same vein Ndamukong Suh did at Nebraska. He does it in a way that still enables him to have an impact on the play, able to knock down passes and clean up plays other guys do not make, but when he is on and attacking, he is a junk yard dog and when the draft rolls around, he could be in the mix for the top pick overall.
Barkevious Mingo, DE LSU
What stands out most about Mingo is his ridiculous physical ability. At 6'5" 240lbs and reportedly running in the 4.5s last year, Mingo comes into the 2012 season with as much upside as any player in the country. His first few steps are as explosive as anyone going and he is a whirling dervish after the snap. His chaotic style of play causes problems for opposing offensive linemen, but will cause Mingo to periodically play out of control and take himself out of plays. His closing speed is elite and if teams do not get a hand on him, he is more than capable of chasing plays down from the backside with an impressive ability to run the arc, which makes it difficult to run away from him. He has a tendency to get overwhelmed against the run, but he is not the pushover some make him out to be. If he can keep his legs moving, even in the 240lbs, he can at least cause a stalemate against offensive linemen enabling teammates to make the play and minimize the damage done.
Mingo uses a spin, dip, and outside speed rush, but is not afraid to attack inside and keep teams honest with the bull rush. He has also has shown that he can plant and change directions as a pass rusher. His hands are quick, but they could improve when it comes to disengaging and keeping offensive linemen away from his body. His athletic ability on its own will enable Mingo to wreak havoc at times, so if he can improve his punch and take more advantage of his long arms, he can become unblockable. Mingo has a great motor and never gives up on plays, but part of that fact might be due to the fact that LSU has had so much talent along the defensive line, they are able to keep their players fresh with a good rotation. There is also the question of how much weight he has been able to add this offseason and if it has had any impact on his quickness and speed. Occasionally, the LSU defense has lined him up inside and had him attack the gaps to test the quickness of interior offensive linemen. Keeping them off balance enables him to neutralize their strength. LSU was able to get substantial leads the past two seasons enabling their team and Mingo to pin their ears back to go after the quarterback.
The biggest questions facing Mingo are his stamina and whether his motor will keep pumping when he is forced to play more snaps, how much better his technique will be, and if his production will suffer when he moves on from one of the 3 most talented defenses in college football to the NFL. Even if Mingo does not improve at all technically, as long as his production stays up, his potential will likely land him as a top 15 pick with a ceiling in the top 5. Mingo has the explosive pass rush talent and quickness of a Bruce Irvin with a larger frame and to this point, none of the character concerns Irvin came with. I am sure there will be people and teams who love him as a 3-4 OLB and I have little doubt he could do it, but I think his best fit will be as a 4-3 speed rushing end, because of his explosiveness out of a 3 point stance and his ability to stay low to the ground even at 6'5" enabling his ability to change direction quickly and get to the quarterback. When he comes out of a 2 point stance, he has a tendency to stay tall, which makes it far easier for offensive linemen to block him and get into his body and neutralize him. His ability to stay low coming out of a 3 point stance might remind some of Dwight Freeney.
Sam Montgomery, DE LSU
It is amazing, but Sam Montgomery might be underrated right now when it comes to how he projects in the NFL draft. He does not have the sexy measurables that his teammate, Barkevious Mingo, brings to the table, but his measurables are impressive in their own right. On top of that, he is currently a better football player than Mingo is in terms of his technique, his fundamentals, and overall feel for the game. It is Sam Montgomery that most often holds down the prestigious right end spot in LSU's defense going against the SEC's best left tackles. Montgomery's best asset seems to be his acceleration. He goes from 0 to full speed in 2-3 steps, so even when he appears to blocked and accounted for, he can still get to the quarterback and make plays. He is more willing to attack the lineman and then make his move than Mingo and he can work in a much smaller area while still being effective and rarely makes extra or false movements. He does a good job of staying low and makes for a difficult target to block. Montgomery does a good job holding up at the point of attack against the run even against the biggest and strongest opponents and displays a good punch to jolt defenders enabling him to make a second move. Montgomery has an effective bull rush and can drive blockers straight into the quarterback. He keeps opponents off balance by attacking the gaps, disrupting blocking schemes, and forcing them to adjust to him, which allows his teammates to make plays. Montgomery is a relentless pass rusher who does not stay blocked.
The questions facing Montgomery face his health after he missed a year with a knee injury. And like Mingo, his motor is fantastic but they have that rotation that allows him to stay fresh. Will he wear down with more snaps? His anticipation and quickness off of the snap could improve, which would only make him more effective and allow him to make more plays. He may not have quite the upside Mingo does, he still has room to grow and improve and it would be preferable to see him closer to 260lbs. Montgomery is just a fantastic football player and it would not be a surprise to see people underrate him and sell him short in their projects, but he is absolutely a 1st round talent and it should not be a surprise to see him in the top 10 if his knee checks out.
Jackson Jeffcoat, DE/OLB Texas
There are two things that stand out to me when I watch Jackson Jeffcoat. He is as tenacious and relentless as a player as I have seen in on every single play coming into the season. The second is the guy is not a true defensive end in any sense of the word. He will line up in a 3 point stance occasionally, but he is not nearly as effective or explosive out of it. He is playing a Leo position like Clay Matthews did at USC and a few other schools like Ohio State employ (Thad Gibson played it for the Buckeyes).
The Texas defensive scheme gives Jeffcoat the freedom to use his impressive athletic ability to make plays, but while he does everything at a pretty good level, nothing other than his pure will really stands out. He has enough speed to get around offensive tackles to make plays, but nothing that is really going to scare anyone. He is not afraid to play with power and at times will collapse the pocket, but more often than not seemed to be engulfed by credible offensive tackles like Mitchell Schwartz and Luke Joeckel. Jeffcoat is active with his hands and can flash the ability to get around good tackles to get to the quarterback. Again, he never gives up and will make plays on his second and third effort, which is great, but rarely does he display anything that beats anyone on the first move. In that respect, he might remind some of Whitney Mercilus. Jeffcoat also benefits from a creative scheme and the talent around him to boost his stats a little bit while also reducing the amount of technique he has to employ to be successful. He is also a pretty good hitter.
In terms of potential, tools and NFL bloodlines, Jackson Jeffcoat brings a lot to the table and there is plenty of reason to be excited about what he can be, but he is not there yet and he is being overrated with some places projecting him as high as the top 10. If he can put it together this year, his stock could skyrocket, but right now he is an outside linebacker in a 3-4 or 4-3 only along the lines of what Ronnell Lewis was last year coming out of Oklahoma. Right now, it is difficult to see a way where he is anything above a 2nd round pick based on the film he has produced so far and that might be generous compared to some prospects who have shown more just in the Big XII. The good news for Jeffcoat is that does have an unending will and a huge frame at 6'5" and already in the 250s, so there is certainly reason to believe he will get better and his best football came during the second half of last year, recording all of his 7.5 sacks in the last 7 games. He is only entering his junior year, so it would not be all that surprising if he came out at a similar size to Brian Orakpo. Jeffcoat also has some minor health questions with an ankle he injured as a freshman.
Bjoern Werner, DE Florida State
I have seen limited tape of Werner, but I am excited to watch more of him this upcoming season. He is a German kid who showed flashes of putting it together for the Seminoles last year. He is in that classic, 4-3 power end mold. His strength is in stopping the run and collapsing the pocket, but he has shown flashes of being able to get around the edge and sacking the quarterback as well. Plays with a lot of strength and does a good job of having his body leaning forward with a good leg churn, making him difficult to block and anchor against. He also flashes a quick first step and the ability to use his hands to free himself when he gets to the quarterback. When he gets to the ball carrier, he comes with bad intentions and will cause fumbles. He also flashes a great motor and does not give up on plays. Werner played last year at 6'4" 265lbs so it would not be shocking if he ended up in the 270-275lb range around the time of the draft.
What Werner does well does not suggest he is merely a flash in the pan, but he needs to be more consistent when it comes to making plays and disrupting offenses, especially on defense with as much talent as Florida State's. His combination of strength, quickness, and technique suggest he will have a big season and could be the first pure left end to go in the draft. However, much like with Quentin Coples last year, pure left ends can fall in the draft because not as many teams run a pure 4-3 as have in years passed. Werner could help himself by developing another move he can rely on when it comes to getting to the passer. He has enough strength to scare opposing linemen which enables him to use his quickness on the outside, but if he can develop an inside move with his strength, he could be that much more dangerous.
Brandon Jenkins, DE Florida State
On the other side of Florida State's defensive line, is the classic Seminole style pass rusher in Brandon Jenkins. 6'3" 260lbs, stays low, and loves to use a dip and speed rush on the outside move to cause havoc for opposing offenses like guys such as Andre Wadsworth, Kamerion Wimbley, and Everette Brown did in Tallahassee before Jenkins. After recording 8.5 sacks in what some deemed a disappointing season, Jenkins did not like the grade he received from the NFL Draft Advisory Board and opted to come for his senior year. Jenkins holds up well at the point of attack against the run and flashes the ability to bull rush opposing tackles and like Everette Brown before him, periodically shows a spin move.
One of the more glaring issues Jenkins seems to run into is overrunning plays or forcing the quarterback to step up in the pocket with no help. There are a lot of plays with sacks to be had if someone was just collapsing the pocket up the middle. If Florida State takes away the ability for opposing quarterbacks to step up in the pocket, Jenkins would cash in more sacks. In addition, if Jenkins can find a way to get himself under control at times when he is in the backfield, he could get more hits on the quarterback. The other issue Jenkins periodically runs into is being unable to shed blocks and the willingness to stay blocked. At the moment, Jenkins looks like a second round pick with the possibility of someone taking him at the end of the first. However, if he can correct the issues he faced as a junior and I believe he will, he will bounce back, get double digit sacks, and put himself in the late 1st round conversation. His best fit appears to be in a pure 4-3 scheme as a right defensive end who should be able to come in and contribute from day one.
Damontre Moore, DE/OLB Texas A&M
On the flip side, I think Damontre Moore may be one of the more underrated prospects entering this season. Moore has a nice set of tools to improve for the NFL including the ability to keep tackles away from his body, lean at a very low angle to get around blockers on his way to the quarterback. His first step is relatively average at this point and he needs to hit the quarterback with more violence but he does a good job reanchoring and changing directions to open himself up to make plays. He is more than willing to attack blockers both in the run and the pass and plays stronger than his 245lb size would suggest. He also seems to have a knack for slipping blockers without a ton of effort to get to the ball carrier. He is comfortable in his drops, has a solid backpedal, fluid hips and maintains his zone responsibilities in pass coverage, which enabled Texas A&M to be creative with how they used him in their 3-4 scheme with the more heralded Sean Porter on the other side.
The flip side to this is that Moore is almost exclusively playing out of a two-point stance, so his effectiveness as a 4-3 defensive end is nothing but projection at this point. However, the new Aggie coaching staff has switched to a 4-3, so Moore will be getting a ton of experience from here on out, although it would seem counterproductive not to use him dropping into coverage from time to time. Moore looks so comfortable in a 3-4 that it seems almost a shame that he will be switching to a 4-3, but if he can do it and do it effectively, it will increase his viability for the next level. It will also force him to have bulked up this offseason. The closer he can get to 260lbs without losing his quickness and fluidity, the better for him, but 3-4 teams will want to look at his sophomore tape to see how he could fit into their scheme.
Much like Jeffcoat, I think right now Moore figures into around the second round right now with the potential to improve that dramatically. He recorded 8.5 sacks last year for A&M and if he can continue that production in this new scheme while improving his technique, he could find himself in the 1st round. Jeffcoat may have more hype and more upside right now, but I will take Damontre Moore between the two right now. That could change, but that is where I am right now.
Sean Porter, OLB Texas A&M
The bigger question facing Texas A&M is how they plan to use Sean Porter. Porter, a senior, played last year listed at 6'2" 230lbs. A move to defensive end is not out of the question, but it might be overambitious and do more harm than good for Porter. He seems more built to play as an outside linebacker in a 4-3 that can blitz and then become a pure pass rushing threat in obvious passing situations. Porter is comfortable playing in space and attacking off the edge using his speed to get to the quarterback. He is far more similar to Von Miller than DaMontre Moore, Porter has the speed to attack upfield before turning the corner to get after the quarterback. When he has his momentum moving forward, he is tough to block for tight ends and especially running backs. Porter does a good job of disguising his intentions pre-snap and he is a more violent hitter than Moore. He gives good effort against the run, but has trouble maintaing his ground when blockers get ahold of him.
On the other hand, Porter has good short area quickness, can make himself a small target to block, and works hard to get off blocks. He uses a spin move with some success getting after the quarterback and while his bread and butter is attacking the outside, will sell the outside fake to get inside on stunts. Porter is a good athlete in space and A&M was confident enough to play him with more responsibilities than Moore, and leaving him on an island in man coverage. Porter has a good motor and seems to give a good effort on every play. The biggest question with Porter is how much more weight he can add to his frame. While he is a relatively thin looking player, he seems to have a knack for making plays, but that could change going to the NFL.
It remains to be seen how Porter will be employed in A&M's scheme, but he appears to be suited to play linebacker at the next level. His potential seems relatively limited and that could hurt him in the draft, but if a player can get to the quarterback, teams will take them earlier than people expect. Right this second, I think Porter figures to be in the late 2nd round or 3rd round area given the talent that should be available next April combined with his relatively small stature, but his intangibles and production could push him higher.
William Gholston, DE Michigan State
Gholston is another guy with a ton of potential, playing at 6'7" 275lbs as a sophomore. He has the ability to play defensive end, defensive tackle, and in a few schemes, could see time as an outside linebacker. When Gholston stays low and keeps his legs churning, he is a monster that is extremely difficult to contain, making him an asset both against the run and pass. His acceleration is not overwhelming, but he has surprising speed when he gets a full head of steam going. His power also enables him to surprise teams with his quickness at times. The problem is when he does not keep his legs going or he gets too high, he can be knocked off balance or simply overpowered at the point of attack, giving up a ton of ground against the run. So much of the intrigue with Gholston is not what he is, but what he can become if he is willing to put the work in to be better.
Michigan State had a talented and at times dominating defense, but Jerel Worthy is gone as is Kyle Pickelman, so Gholston will have more attention his way and teams will be looking for him more than they did last year. In so many ways, his skillset is similar to Quentin Coples and the biggest question with Gholston is if his production will fall off like Coples did last year. Coples was also a smoother athlete with better balance which is something else Coples needs to improve, but he has two seasons to do it in East Lansing. In terms of the draft, with a great season, it would not be surprising to see him end up declaring and going in the 1st round, possibly ending up as a 5 technique end or a power end in a 4-3. More likely, however, is that he will be one of the players that ends up staying for his senior year and posturing for the top DEnd spot for 2014.
Corey Lemonier, DE Auburn
Right now, Corey Lemonier is an explosive pass rusher who desperately needs to get bigger and stronger, so he can contribute more against the run. Non-stop motor with a good first step, good acceleration, and a relentless approach to pass rushing. Despite playing in the high 230lbs, Lemonier does a pretty good job keeping blockers from getting to his body. And although he has a difficult time holding up against the run, periodically getting pushed down the field like he's on skates, he gives all out effort and will occasionally slip blocks to blow up the play. When linemen can get ahold of him, he is often neutralized, having trouble anchoring to change direction or set up a counter move. In a league where there is so much emphasis on getting to the passer, Lemonier has a ton of value, but right this second he is a pass rush specialist only.
If he can get up to 250lbs without losing his quickness and tenacity, he could be a tremendous outside linebacker in the 3-4 or a 4-3 right end in the right system. Like Gholston, Lemonier is another guy who could come out and have a great season before moving to the NFL, he seems like a guy who will need to stay in school to maximize his stock for the draft. For all of his ability, Lemonier might be the 4th or 5th best pass rusher just in the SEC, but he is definitely someone to keep an eye on while watching Auburn this year.
John Simon, DE Ohio State
Like Bjoern Werner, John Simon projects as a power end in a 4-3 scheme in the NFL. He also could be used as a pass rushing specialist inside as a 3-technique defensive tackle or a 5-technique end in the 3-4 if he bulks up a little more. Simon is stout against the run and a strong player with a high motor. His power and strength allow him to attack the inside gap at times and get around the outside to attack the quarterback. He does a pretty good job fighting off of and shedding blocks, but he is not a burner by any stretch and that lack of speed could hurt him at the next level. Typically, when he gets to the quarterback, it is with little wasted motion and the shortest distance or in a second effort type situation where the play breaks down.
He was able to notch 7 sacks last year for the Buckeyes and it should not be surprising if he tallies up a similar number this year, but when it comes to projecting to the NFL, Simon could have trouble with NFL caliber linemen and that could ultimately limit what he is able to do on that level. Having said that, Simon's effectiveness against the run, his work ethic, and his production could land him in the second round of the NFL Draft with the potential to outperform his draft status. At the very least, he should project as quality depth that can contribute at multiple positions on an NFL defensive line.
Chase Thomas, DE/OLB Stanford
Hard working football player with good instincts, but much of his substantial production is due to the scheme Stanford uses and their willingness to move him all over the football field. Most naturally projects to a 3-4 scheme as an outside linebacker, but would need to add bulk. Could play an inside linebacker in a 3-4 as well or a 4-3 linebacker.
Devin Taylor, DE South Carolina
Taylor reminds me of Michael Johnson coming out of Georgia Tech with far more hype than he deserves. He needs to add substantial bulk as he struggles to maintain balance and hold up in run defense due to his 6'7" height. If he can get into the 280lb neighborhood, he could be a dangerous player in the NFL but right now seems to be an underwhelming mid round project heading into his senior year.
Margus Hunt, DE SMU
Estonian by birth and looks like a polar bear on the field, Hunt showed little to nothing to get excited about until SMU's bowl game. People watched what he was able to do there, taking over the football game and looking like an unstoppable force and he has become a fan favorite.
See for yourself
The good news is that he was able to do it the bowl game, so that was the impression he left with scouts. The bad news is those 3 sacks were his only 3 sacks and he needs to prove he is more than just one game. Was he a one hit wonder or simply a kid who has finally figured out what he is doing with his enormous 6'8" 295lb frame as it pertains to the football field? Who knows how much bigger and stronger he could be this year?
This is just starting to scratch the surface on the number of pass rushers that could be factors heading into the 2012 season. Some of the others not mentioned in no order whatsoever:
Dion Jordan, Oregon
Alex Okafor, Texas
Cameron Meredith, Nebraska
Jordan Kahout, Wisconsin
Adewale Ojomo, Miami
Kareem Martin, North Carolina
Brad Madison, Missouri
Wes Horton, USC
Aaron Donald, Pittsburgh
Mallicah Goodman, Clemson
Stansly Mapong, TCU
Craig Roh, Michigan
Ron Powell, Florida
Tevin Elliot, Baylor
Walter Stewart, Cincinnati
James Gayle, Virginia Tech
Mike Buchanan, Illinois
Ben Gardner, Stanford
Trent Murphy, Stanford
Nathan Williams, Ohio State
Trevardo Williams Connecticut
Alex Cook, Fort Valley State
Ty Powell, Harding